Tek Signals designs, supplies, builds, delivers, installs and maintains broadcast facilities at the highest level. From small OB trucks to the largest multinational broadcasting cooperation's we deliver an exceptional service throughout the sales lifecycle and beyond with direct SLA's.
Depending on the needs of a project and the requirements of our clients the broadcast solutions can be built by Tek Signals in one of two ways – either by utilizing our purpose built staging facility in Abu Dhabi reducing the impact to current operations or, onsite and alongside current investments. Either way Tek Signals priority is to make the installation and migration as seamless as possible.
Tek Signals is always on the leading edge of new and emerging technologies and we pride ourselves in investing in our people to make sure we have the competitive edge. We have highly skilled teams who are experts in a vast array of technologies and fields and our project management office ensures all projects are tracked and delivered on-time and on-budget.
Newsroom Systems
– Specialized for news: new server for news, sports production etc.
– Quickly sifting through mountains of digital assets
– Making frame-accurate low – resolution copies
– Viewing-room congestion, letting share the same data
– Saving Time, money and resources.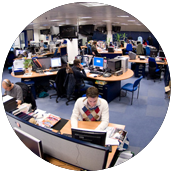 Editing Systems
– Analog / Digital Linear/Non-Linear Edit Suites
– Conventional / Desktop Edit Systems
– Digital FX and Graphics Systems
– Analog / digital Video/Audio Mixers and Recording Consoles
– Microphones, Sound Processors, Speakers, Amplifiers, EQ's, Limiters/Compressors, Tapes, noise Reducers, Transports etc.
– Editing Consoles, Library Racks and Bar Code Systems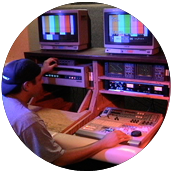 Animation And Graphics Systems
– Multi-resolution video design system for close-to-air graphics.
– New levels of efficiency and team working in all areas of broadcast graphic design
– Accelerated processing and high speed disk access for a truly responsive design environment
– Composite any resolution over any other and then render at any resolution for maximum creativity and minimum fuss
– Underpinned by 100BaseT and Gigabit Ethernet which ensures that faster than real-time transfer is possible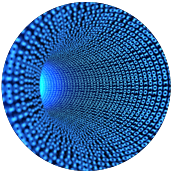 OTT/VOD
OTT is now in the broadcast mainstream: an integral part of how video content is made, delivered, consumed and monetized. Led by changing consumer habits, video and advertising are evolving to offer more mobile and personalized experiences. The industry is plotting its future around new services and synergies, and technology is adapting to deliver video in advanced and immersive ways.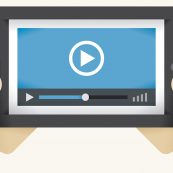 Electronic Archive Systems
– Regulatory compliance
– Analog-to- digital conversion
– Disaster protection and recovery
– Cross-company consolidation
– Ease of retrieval and Detection.
Audio / Video Studios
– Fulfilling industry standards, proven controls, integration with third-party products and applications
– ENG / DNG Cameras including support equipment, lenses, batteries, lights
– Audio mixer with an effects unit, CD player, DAT recorder, and minidisk
– Digital production switcher including a dual-channel digital effects system
– Conversion, distribution, timing, and processing functions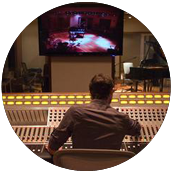 Transmission / Master Control Systems
– SMPTE standard data transmission rates from 3 Mb/s to 1.5 Gh/s
– Front-loading, hot-swappable modules
– Reclocked and non-reclocked output
– Network-based remote system monitoring/diagnostics and automatic alarming
– Low power consumption for power-sensitive installations and available redundant, load-sharing power supplies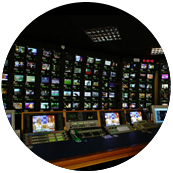 Satellite News Gathering / Video Phones
– Delivery of remotely gathered media to be broadcast live or recorded for later use.
– Deployable emergency response communications
– Consulting, customer specific system designs, professional project management and turn-key delivery of the system.
– Temporary communications from industrial sitesNews gathering using compact portable transmitters and receivers with the latest digital compression techniques for satellite news gathering (SNG)
– Complete communications for voice subscribers, a LAN and H.323 video conferencing system if applicable.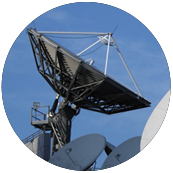 DBS Earth Station
– Custom designed utilizing the latest satellite technology
– Multiple Antenna sizes, Fixed & Motorized Antennas.
– Antenna patterns compliant with FCC & ITU
– Transmit/Receive or Receive only.
– Several projection technologies available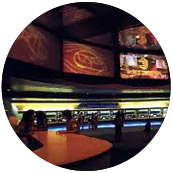 OB / DSNG Vans
– Small, Medium and Large OB's for TV and Radio
– Fixed Length and expandable OB Structures
– SNG OB Vans and Containerized / Flyaway SNG portable satellite systems
– Helicopter / Boat / Moving Vehicle TV Transmission Systems
– Customer's Choice of Equipment, Truck, Trailers, Artwork/Paint etc.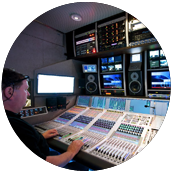 MMDS / LMDS

– Wireless means for delivering broadband services to businesses and residence
– Faster Deployment than laying cable/fiber
– High data rates and converged/advanced services possible.
– Modulation – TDMA, FDMA, OFDM, CDMA, DOCSIS+
– Designated for local television distribution and business data.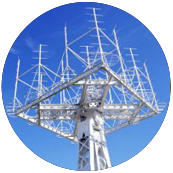 VHF / VHF Radio / TV Transmitters
– Send any audio and video source (like a VCR or TV camera) to any TV set
– Tunable to any TV channel 2 – 6, runs on 12 VDC, and accepts standard audio and video signals.
– Video and Audio inputs compatible with any VCR or TV camera
– Stable output adjustable to channels 3 – 6
– Die-molded outer shell minimized signal loss and radiation