TekSignals is one of the leading systems Integration Company in the Middle East established in 1993, TekSignals supplies technology to leading organizations with high-quality, latest technology and professional systems & services with best after-sales support. Our services directly support the advancement of Educational, Research, Defense, Security, and Corporate Infrastructure. TekSignals is a highly-professional and well-managed organization. Our international partners are the technology leaders in their respective fields, Including
Finally, as a reliable solution provider, TekSignals enjoys long-term relationships with its customers. We are among few organizations in the UAE with these credentials.
Security and Building Automation Systems
Today's Security and Automation Systems are becoming more and more granular finding it hard to work out proper & workable systems.
We at TekSignals believe in providing consultative approach to our customer's by listening and understanding to their requirements and then providing solutions which are at utmost level of competency.
Our team is amongst the most internationally diverse, experienced and knowledgeable in the industry. Our people are recruited for their extensive security, integration, technical and consulting experience. They keep completely up-to-date with emerging international practices and technologies and will work with you at every stage to ensure the security requirements of your business are met to the last detail.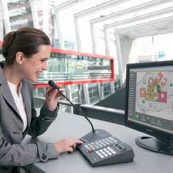 Following are some of our area of expertise in AV and Multimedia:
CCTV / Security Systems
– Systems linked by radio waves, Internet connections, or hardwires.
– A high integrity state of the art solution.
– Combined with cameras, Lenses, Cables, power supplies, channel quad, monitor etc.
– Black and white or color system with our without auto iris varifocal lens
– Day/Night feature and Plug & Play connectors